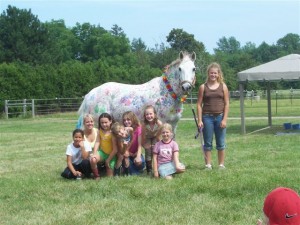 March Break 16-20
July 6-10, July 20-24
August 10-14, August 17-21
Sessions run weekly, Monday through Friday from 9:00 AM to 4:00 PM.
Register early as space is limited
Cost $375 plus HST.  Registration must be paid in full prior to the first day of camp.  Registration forms will only be accepted when accompanied by a $75 non refundable deposit.
Campers must be a minimum of 5 years of age and up to and including 13 years old.
Camp Sessions are suitable for both complete beginners and more advanced students wanting extra practice and horsemanship skill training.
Campers will ride each day at a skill appropriate level in small groups for individual attention.
Arrangements can be made for before and after care (up to 1 hr before or after) with one of our qualified student counsellors at a cost of $20/day.
Camps combine horsemanship, theory, and riding time with an emphasis on safety and fun.
Experienced staff for a fun & supportive learning environment.
Campers are encouraged to purchase their own ASTM riding helmet prior to attending camp and must wear shoes with a proper heel.  ASTM approved helmets are available to rent for $25 per week.  No bike helmets.
Fun games and crafts daily along with the fun of the slip 'n slide.
Parents will be required to sign a waiver prior to their children taking part in any camp activities.
Please make sure all clothes are well fitted and suitable for fun, active and sometimes dirty play.  No sandals.
Campers must bring their own lunch(peanut free).  Snacks and refreshments are available for purchase.
Items to bring include sunscreen, hat, long pants and riding shoes with a heel, change of clothes and swim suit and towel(for playing in sprinklers etc).