We offer the smallest group lessons in the area for the same price as other facilities.
At Bayview Equestrian Centre we offer English Hunter/Jumper Riding Lessons from the beginner level to nationally ranked competitors in a safe and friendly atmosphere. All our instructors are qualified horse people who are interested in sharing their knowledge and experience. Our school horses are all competent and safe mounts.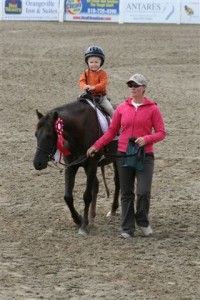 Lessons take place in our indoor arena or large outdoor sand ring. Group lessons are limited to 5 students to ensure that each student receives individual attention at every session. Suited for those interested in a casual riding experience or seeking an aggressive riding program we can meet your needs and help you reach your goals. Students can begin regular riding lessons at the age of 6. All beginner students must begin with a series 1 hour private lessons to ensure a safe and positive riding experience before progressing to a group setting.
Beginner Private Lessons $85.00/hour + HST
Weekly Private Lessons $85.00/45min + HST
Weekly Group Lessons, 4-5 students $60 + HST